Types of Residential Fencing in Huntsville, AL (Most popular #8 types)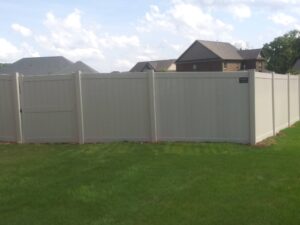 If you are a homeowner, you will always prefer to maintain some level of privacy for yourself and your other family members as well. Having residential fencing installed will be the best solution in this case. It comes in various types. As most of them are very much on demand among the people, it can get confusing for you to pick the best one that will be able to fulfill your requirements.
From the following article, you will find all the explanations about it. Each one of them will be elaborated in an easier way so that you don't face any kind of confusion. This will be a reward for the people in Huntsville, AL as it is filled with gems. So, without further ado, let's get started.
Residential Fencing Types in Huntsville, AL
The different types of residential fencing are:
1. Vinyl Fencing
2. Aluminum Fencing
3. Wood Fencing
4. Chain Link Fencing
5. Dura-Gate Systems
6. Vinyl Railing Systems
7. Wrought Iron Solutions
8. Security Gates for Homes
Check out their explanations below.
Vinyl becomes the first choice for the majority of the people in the area of residential fencing. The starting cost is quite higher than the chain-link or wood fencing, but the investment is healthier in the long run.
Moreover, regular maintenance is not necessary and because of this, your money will be saved and this will slowly balance your overall investment.
There are also different styles under vinyl fencing.
• Picket Style (Other variations are: Classic Style, Cape Cod Style, Victorian Style, Town and Country Style, Traditional Style, Richmond Style, Princeton Style)
• Semi-Private Style (Another variation is Court Yard Style)
• Privacy Style (Other variations are: The Eclipse tongue and groovy privacy fence, The Eclipse Fence with Lattice Accent, The Eclipse Fence with Picket Accent).
• Farm and Ranch Style (Other variations are: 2, 3 and 4 Post Rail Style and Crossbuck Style)
• Custom Design Style
Aluminum fencing is very strong and can withstand any external pressure. On top of that, it won't rust as time goes by. As it is quite heavy, the installation time might take some extra amount of time. In total, it is very good in providing you the privacy and the utmost security.
There are also different styles under aluminum fencing.
• Blue Ridge Style
• Carolina Style
• Chicago Style
• Classic Style
• Wilmington Style
Wood Fencing is popular in the world due to its traditional and classy outlook. The privacy and security features are awesome. You can use it for around two decades or so if you can maintain it every year.
There are also different styles under the wood fencing.
• Board to Board Style
• Shadowbox Style
• Cap and Trim Style
• Picket Fence Style
• Farm and Ranch Style
• Custom Style
This type of fencing is the most budget-friendly option out of all. It looks very simple and you can easily see through it from any direction. If you install it, you will get the opportunity to showcase the beauty of your property to the people outside.
The privacy and security features are very much appreciated by lots of homeowners. With proper care, you will be able to use it for around three decades.
5. Dura-Gate Systems
The traditional wooden gates might have been a pain in your head because you have to apply some physical pressure when you have to open or close it. On the other hand, hiring a professional to solve the problem will cost you some money and who knows, the problem might arise at some point in your life again, right!
In that regard, Dura-Gate Systems is completely the opposite and will always serve for your benefit. The gate frame is very strong and is coated with aluminum the powder. Its hinges and latches are flexible and it closes automatically, cheers! There is also a gate handle for your ease.
If you are interested to do the installation by yourself, you can easily do that. The kit comes with instructions and some tutorial videos. Just follow everything step by step and you will get your job done successfully.
Vinyl Railing Systems is a complete package of beauty and strength. The unique styles will elevate the outlook of your property differently.
With its installation, the value of your property will increase and if you maintain it decently, it will last for a lifetime.
7. Wrought Iron Solutions
You can have your own unique styles with the installation of Wrought Irons. The fence company in Huntsville, AL will help in designing your unique railing, estate gate, spiral staircase, perimeter fencing or even garden accent. To increase the durability of Wrought Iron, the professionals will apply powder coating system and aluminum or steel in the designs.
You can install light or heavy-duty gates, sliding gates, swinging gates, etc. Gate openers for in-ground or solar can also be done with the help of the fencing company.
Pick The Best Residential Fencing in Huntsville, AL
There are lots of companies around this area so it can be a hassle for you to pick the best one. If you are strategic, this problem can easily be solved. Just go to Google and type 'fence company Huntsville AL' and then note down some of the top-rated ones. Check their customer reviews and their payment lists. Filter some of them according to your budget. Finally, call or e-mail them and fix a schedule for the consultation.
Final Words
Share this valuable information with your loved ones. They will definitely be benefited out from it.
Talk to the residential fence company without any hesitation for additional information.
Have a good day!